Managing USA Wrestling information for your team, barcode scanners and more
A new version of WrestlingIQ is out today that gives teams enhanced tracking of their USA Wrestling membership information, allows you to use barcode scanners with the WrestlingIQ Kiosk, and several design tweaks to make registration easier.
Collecting USA Wrestling information at wrestling time
WrestlingIQ lets you fully configure the information collected when people sign up for one of your sessions; however, USA Wrestling information has now been given detailed treatment in the registration flow that is designed to help new registrants understand why they need a USAW card, how to purchase it, and lets them enter it in a structured way so you can easily export that info for verification with USA Wrestling.
Once you have turned on the USA Wrestling info collection in settings, registrants will be presented with a screen like this: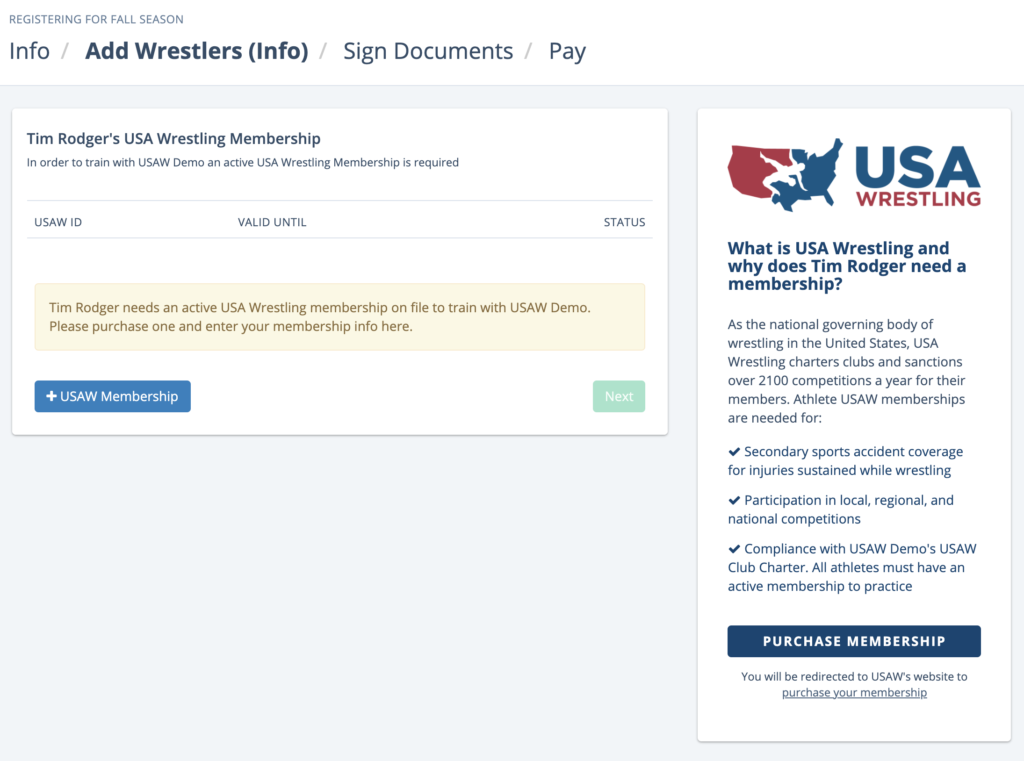 Best of all, once your wrestlers have added their USAW information to the screen, you'll be able to check them in with a barcode scanner at the door.
Barcode scanner for the WrestlingIQ Kiosk, WrestlingIQ ID cards, and USAW scanning
The WrestlingIQ Kiosk is designed to be placed at the front door to your facility and can be run on any phone, tablet or computer.
As of today, you can now use a barcode scanner to scan the new WrestlingIQ ID cards that get digitally sent to each registrant without needing to type anything. If USAW information is also added to the wrestlers profile, you can also scan USAW cards with the barcode scanner to check wrestlers in quickly.
Here's a quick video of the kiosk running on an iPad using an Inateck barcode scanner. See here for detailed scanner recommendations and setup information.
Refresh of how registration works, better handling for families, and some UI updates
The registration flow has received some updates today.
Date of birth is now required instead of age when signing up a wrestler. Parents/wrestlers will be prompted to fill the date of birth out the next time they register for a session.
Basic info (academic class, weight, date of birth) is presented for verification on subsequent registrations so your data stays up to date.
The wrestler profile page now shows USAW information and has been redesigned for a clean new look.
You now pick which wrestlers will be signing up for the event you are registering for towards the beginning of the process, rather than the very end. This will cut down on extra data entry for families that had more than one child enrolled.
The USAW information collector is now in the registration flow (see above) if you have it setup for your team.
The UI has been touched up to look a little nicer and now includes the session you are registering for at the very top.
A recaptcha fallback challenge has been added in case the invisible bot stopper blocks you.