What's new with WrestlingIQ? (Dec 2022 to March 15 2023)
Team updates, freestyle scoring, admin payment controls, and more
Jeff Marsh—The Wrestling Coach—has joined the WrestlingIQ team.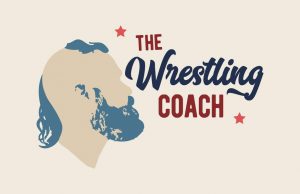 Jeff Marsh joins WrestlingIQ
While I'm proud of the product that WrestlingIQ is today, one of the things that I've wanted to improve is helping spread knowledge and best practices about how to structure and operate your organization and program. In other words, it's not just software that can help improve wrestling, but systems and software. That includes topics like how to setup an LLC or non-profit, get a federal EIN, and what type of insurance to carry, as well as operational topics such as best practices for taking attendance, practice planning, recruiting, local SEO and website tips, how to think about pricing in your local market, and more.
I'm happy to announce that I've partnered up with Jeff Marsh—formerly an executive director at Beat the Streets National and a club owner in New Jersey, also known as The Wrestling Coach on Youtube—to develop and share operational systems that will help you save even more time. If you know Jeff at all, you know that he is as zealous about operational effectiveness as I am about software engineering.
Product updates
Improved design on the team registration page
Every club team using WrestlingIQ has a page provided by WrestlingIQ that shows all open registrations (you can find yours under Settings -> Team). We've improved the design to group by session type and date, so registrants can easily find what they are looking for.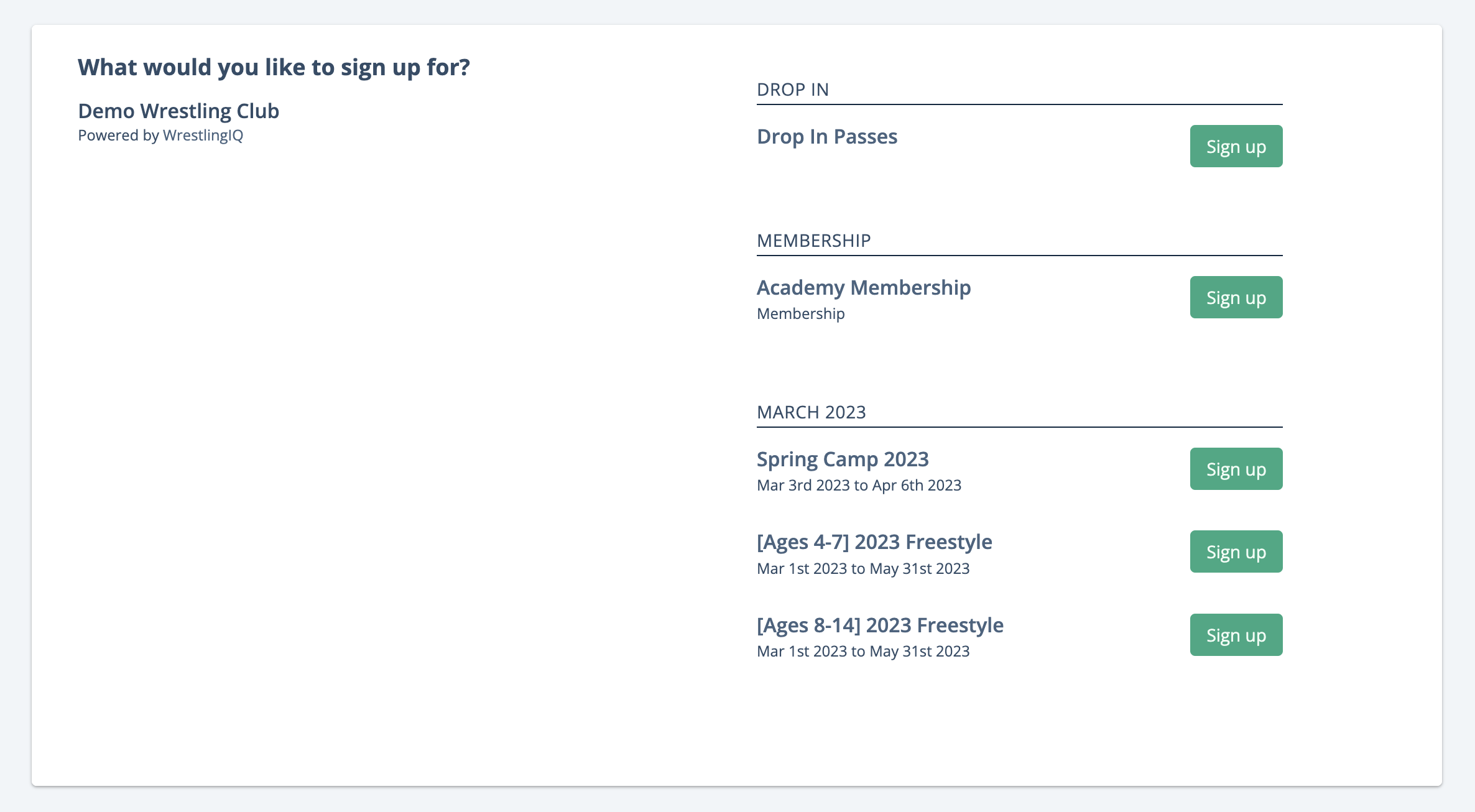 Improvements to Memberships (recurring billing)
We are continually investing in making payments better in WrestlingIQ. This month we've made some changes to pave the way for future improvements. Here are the highlights:
Subscription changes (1 wrestler per subscription)
As of March 9, new memberships enforce a one wrestler per subscription rule.
Having multiple wrestlers as part of a single recurring bill turned out to have a lot of issues. What happens if a sibling joins mid billing cycle? What happens if only one wrestler wants to move to a different price point? What happens if only one wrestler is leaving the club? This change means that families on recurring memberships will have one charge per wrestler, but it makes management of memberships a lot easier to understand.
Tiered sibling discounts now available for memberships
When setting up your recurring membership price points, you can now have tiered scholarship code (discounts) apply when a family is signing up together:

Here is what a family in this tiered situation would see when checking out: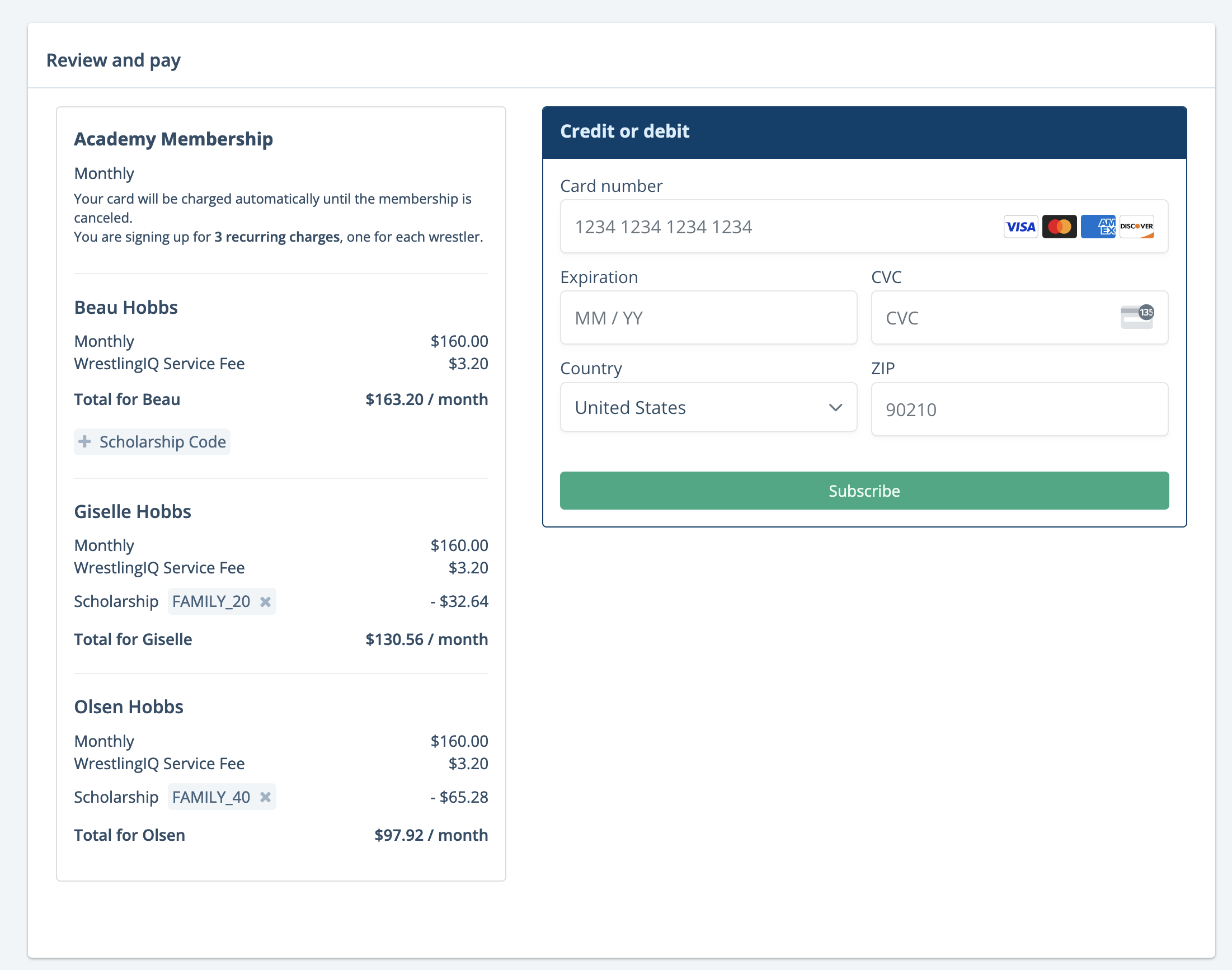 Admins can now apply, remove, and change coupons on Memberships
Admins, when viewing active memberships, can now apply scholarship codes, change scholarship codes, or remove scholarship codes without needing help from the WrestlingIQ support team.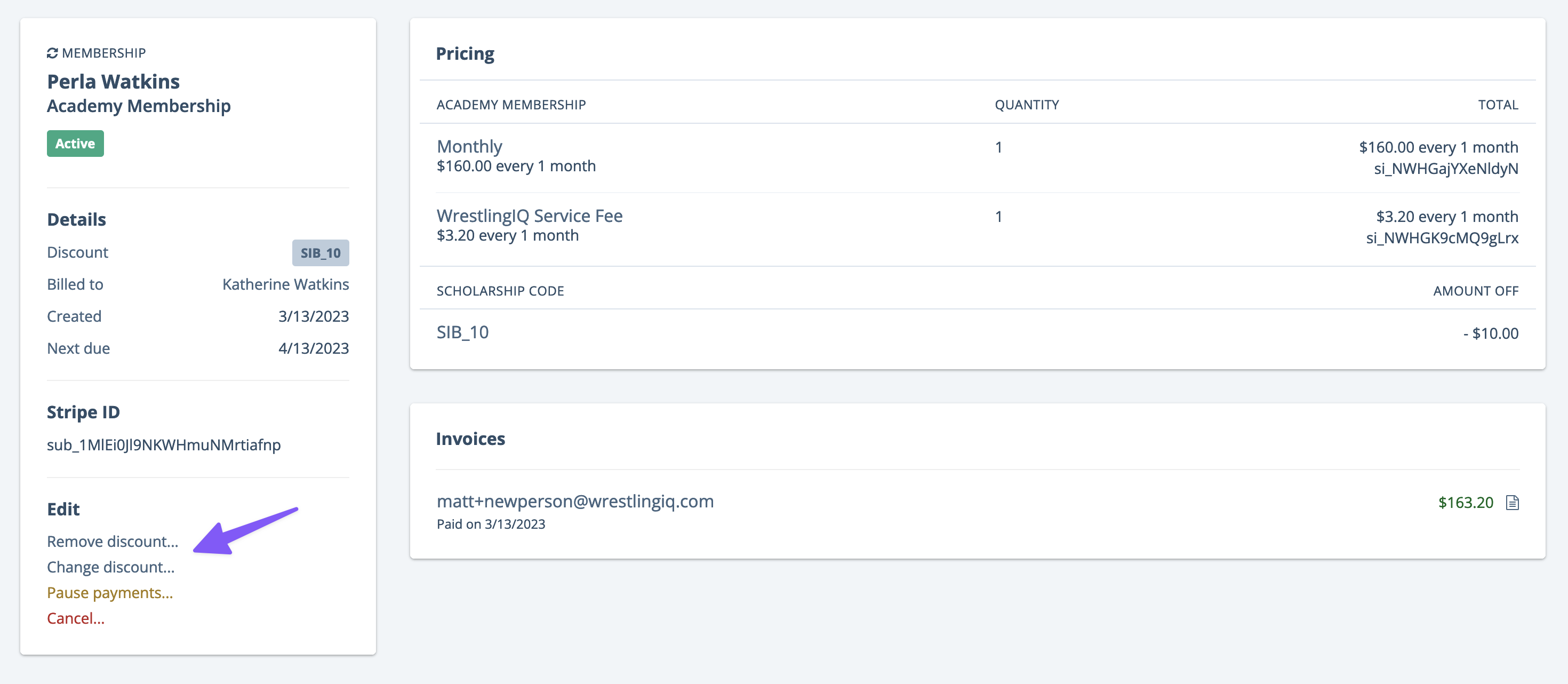 Freestyle/Greco scoring now available on the web and iOS
In the iOS app you are now able to select and score a Freestyle / Greco match. On the web, if there is no ruleset defined on the match you will be given a choice for how you want to score it.

Private properties now available on wrestler records
You are now able to create custom properties for wrestlers that are only visible to coaches when viewing the 'Info' tab on wrestlers records on the web. Learn about how to set that up here.

We have a lot of content planned in the future to show how you might use this and product enhancements coming down the pipe related to it. For now, you may find this useful as a way to import data from other systems you were—or are currently—using so it all lives in WrestlingIQ. You can easily pull answers down into a spreadsheet with the new Roster Report enhancements (see below).
Roster report updates (Charts! Custom columns!)
This one is for all of you that have spent too many hours pulling data and creating charts for impact reports. The Roster Report now lets you append any of the wrestler properties/information you are collecting at registration time, so you can quickly download and manipulate your data.
We have also introduced charts into the Roster Report. There are some basic charts for age and weight class. Plus, any custom property you add to the report of type 'Dropdown' will auto-generate a pie chart.
If you are collecting things like gender, ethnicity, or other socio-economic indicator, this can be a quick way to get a nice looking breakdown of your organization.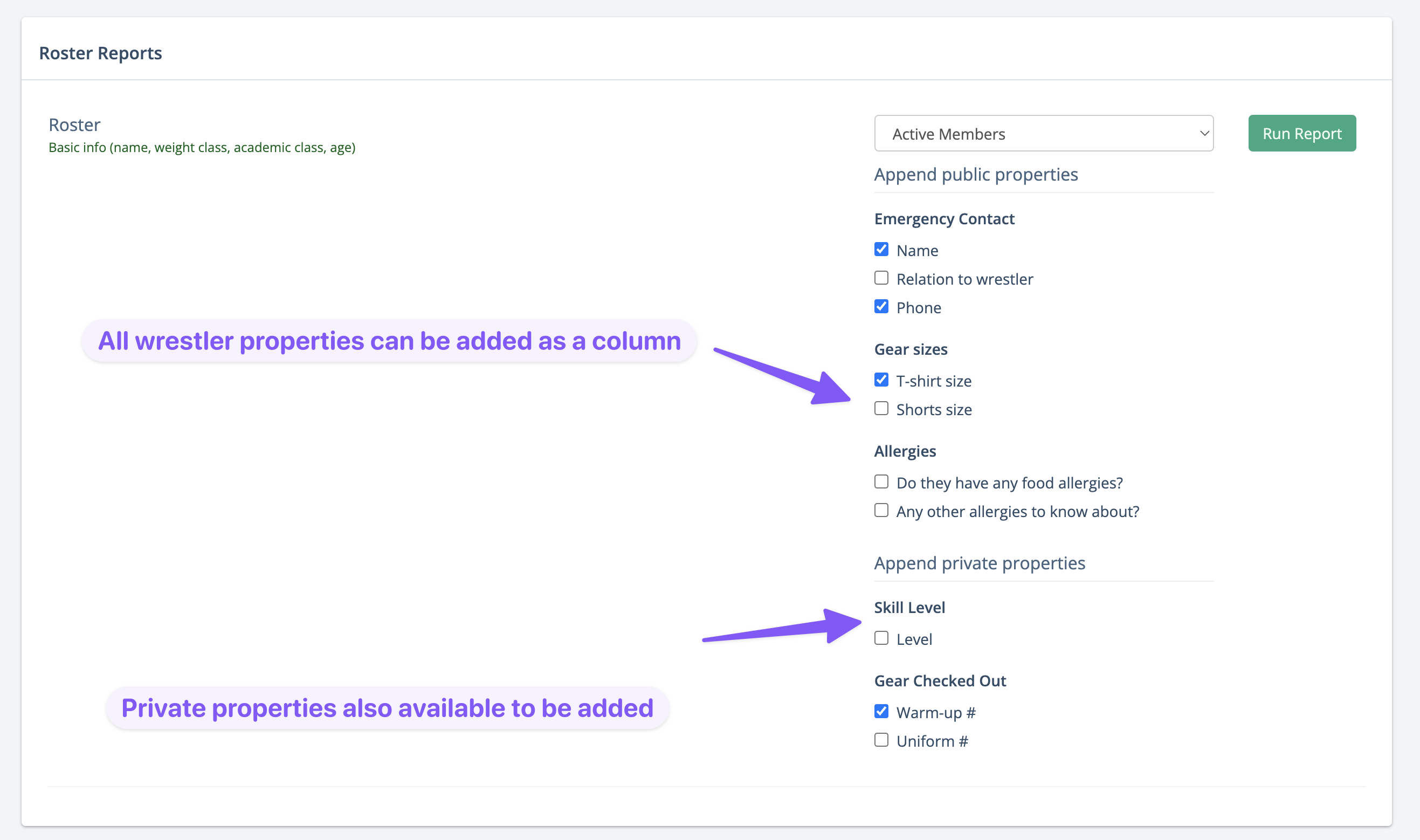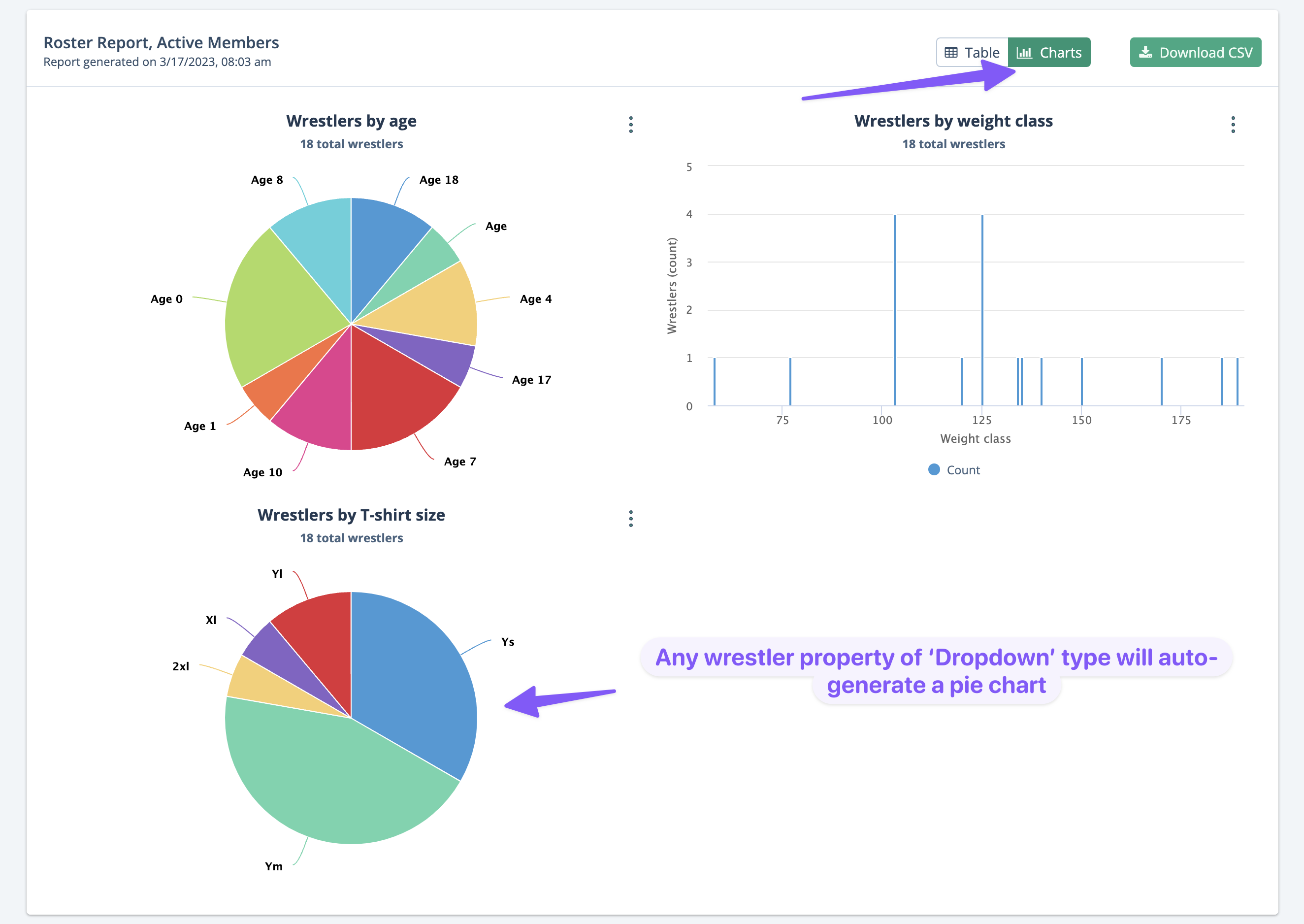 Event Invite Improvements
As a coach, if you head over to a calendar event, the event invites are now broken out by account type.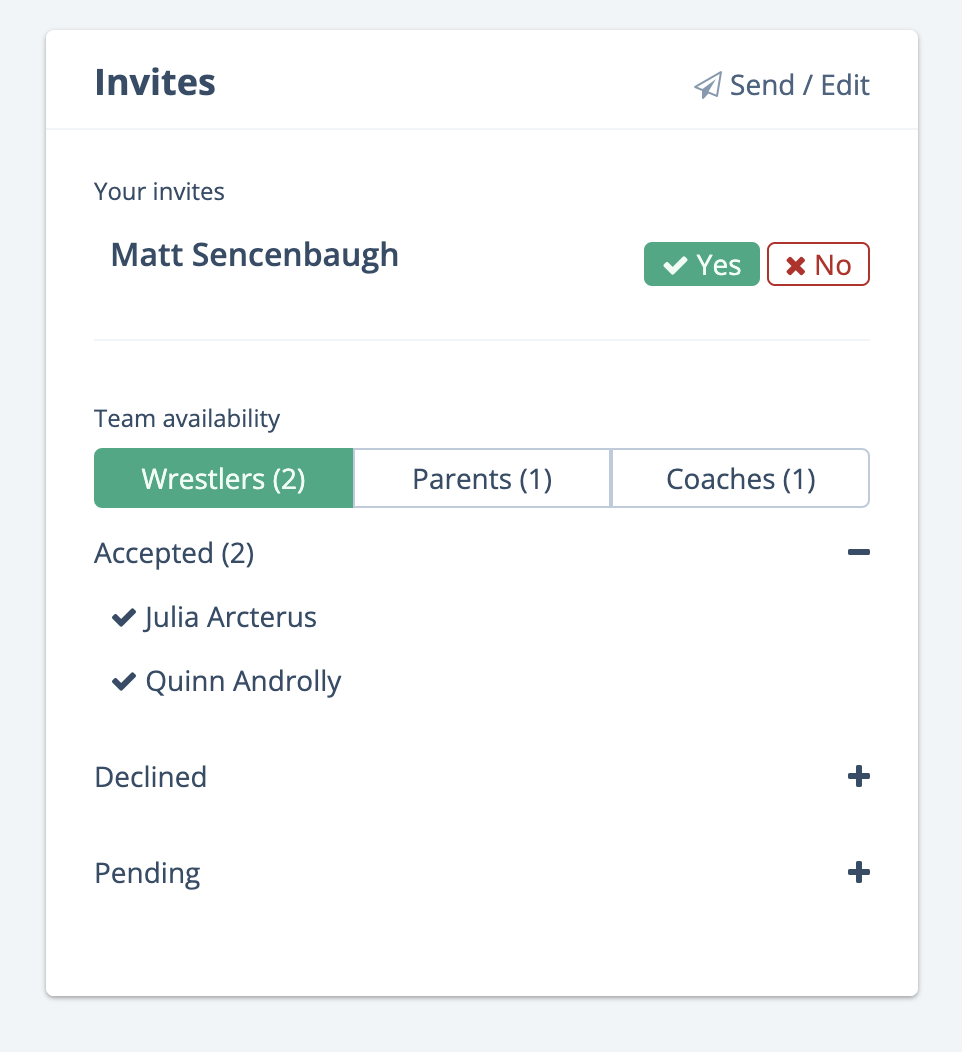 Parents accepting or declining invites now auto-marks their wrestlers as accepted/declined (in certain situations)
If a wrestler in WrestlingIQ does not have an active login (i.e. most youth wrestlers under 13), the parent accepting or rejecting an event invite will also mark the wrestler as having that same status.
Here's what that looks like for a parent who clicked they will be attending, if they aren't logged in to WIQ: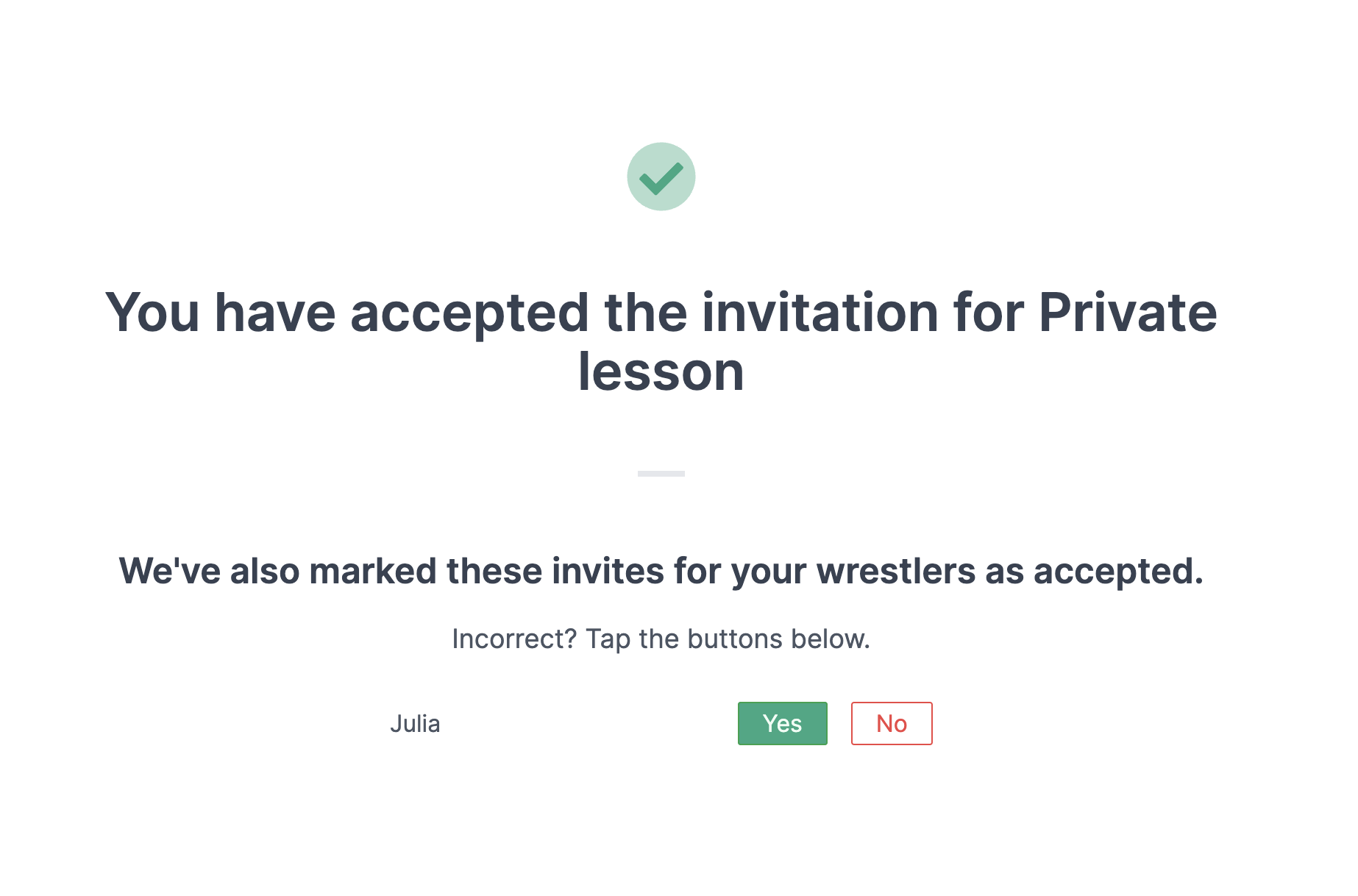 Smart suggestions now show up when sending event invites individually
WrestlingIQ will now suggest related people when you individually create event invites. If you individually add a wrestler, the smart suggestion will show all of their associated guardians. If you individually add a parent, the smart suggest will show all of their associated wrestlers.

Improved account invite design
When you manually invite a parent, wrestler, or coach, they receive an email invitation. We've refreshed the design of that invite landing page to allow for people to fix typos in their name and to look a little more professional.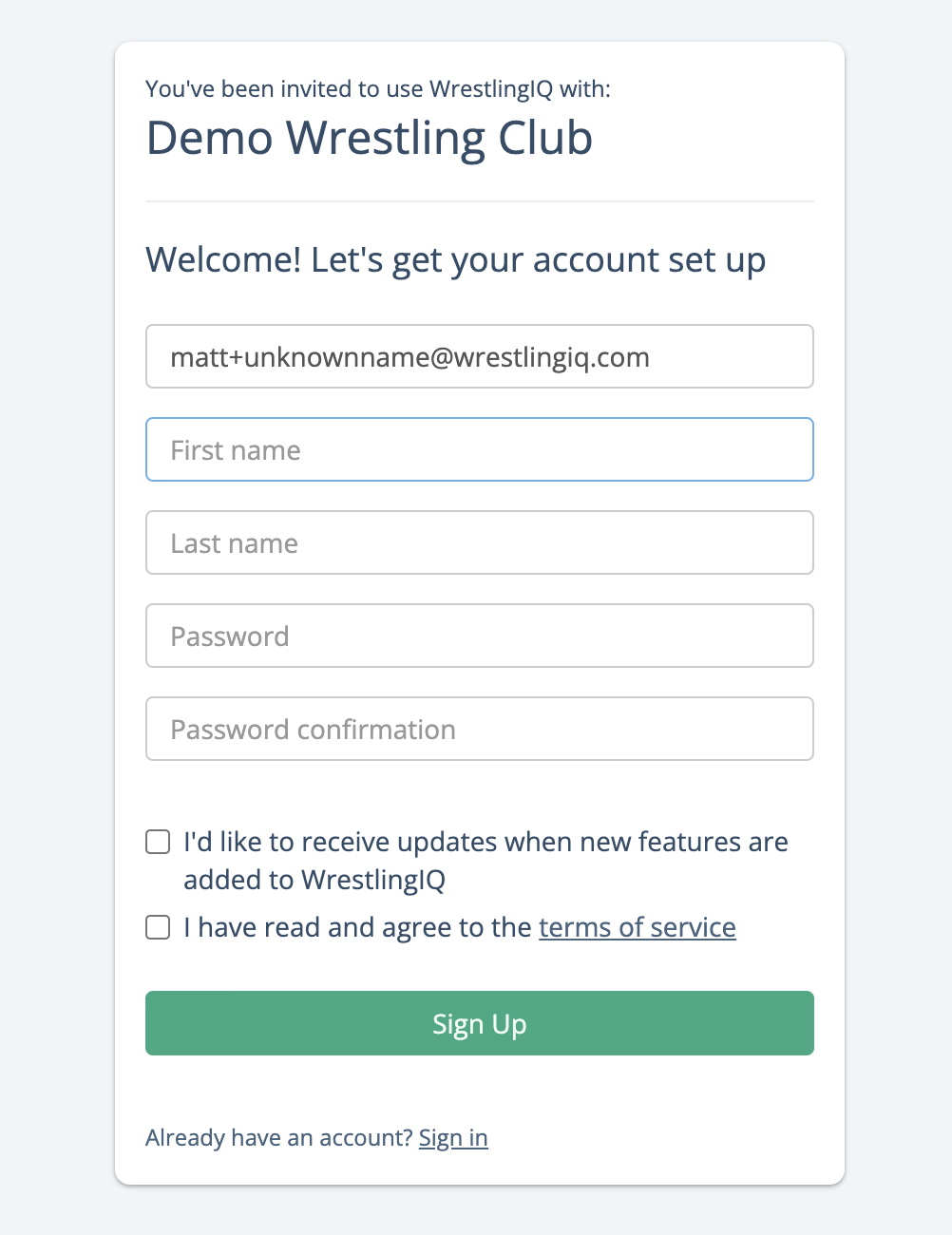 Filter events by roster (web, calendar)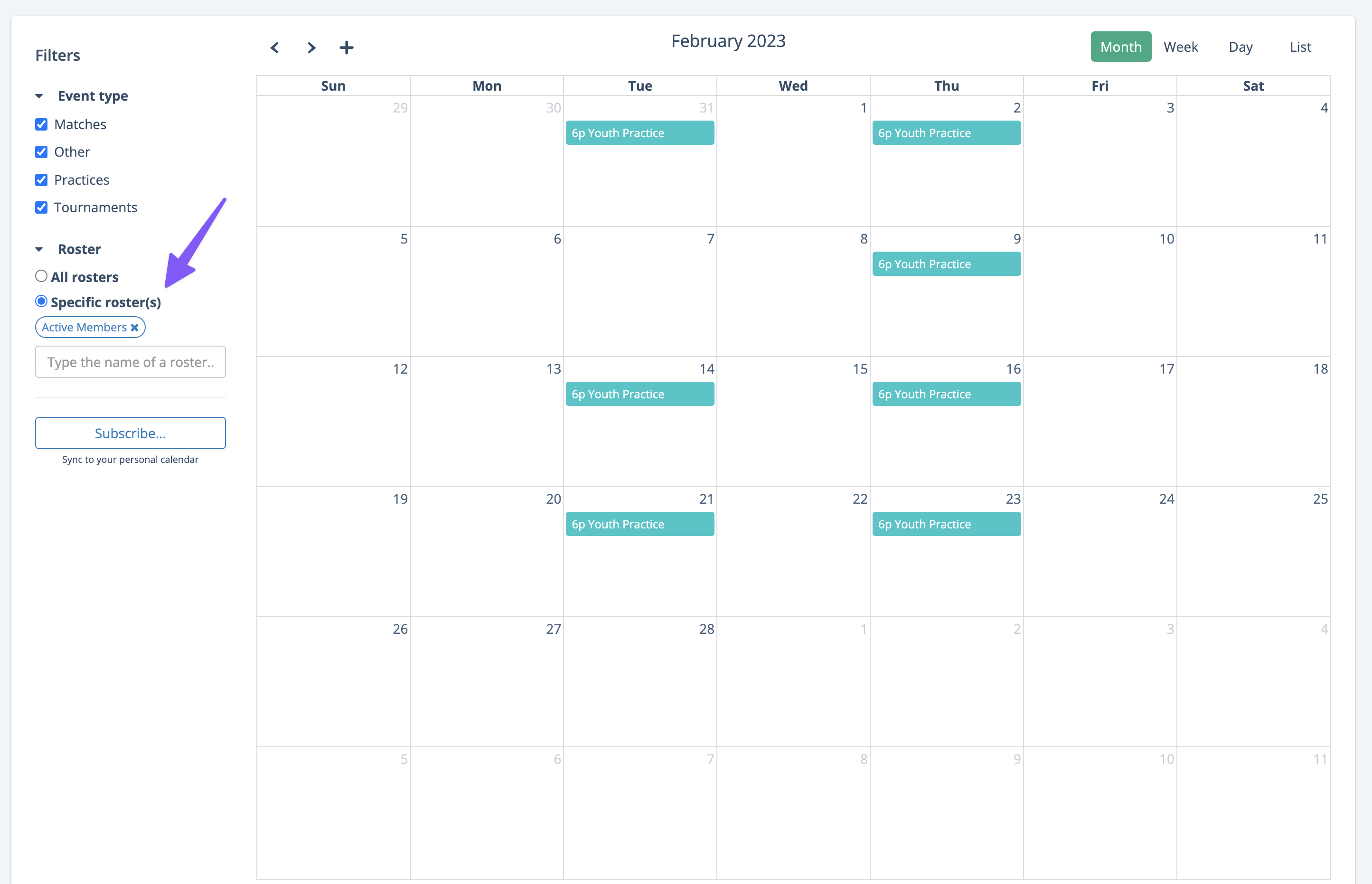 Other updates & fixes
For guest wrestlers, the registration info is now shown on their profile instead of needing to run a report.
While recording a match on the iOS app, the app will now show a prompt in the center of the screen if you have forgotten to tap the start recording button.
First name and last name, when available, is now present on the Donation Report.
We fixed an issue with the practice planner, where deleting an item in a block would sometimes cause other blocks to lose items.
Reporting Improvements
New Report in Financial Reporting
You will find a new report in the 'Registration Financial Summary Report.' It provides detailed reporting that includes registrations for full seasons, one time events and shows gross revenue, allocation of scholarships with gross total and demonstrates your net minus scholarships.
For non-profit clubs, this reporting will help you demonstrate your impact to donors by creating transparency in the total cost of scholarships you offer, which gives your donors financial incentives to fund the full costs of those scholarships.
For private clubs this report can be used to demonstrate the number of scholarships you give to to wrestlers for registration for full seasons or one time events like camps. This will help you demonstrate your programs impact and gives you the option to raise money to support these scholarships through fundraisers and donations.

Last Practice Attended Report & Invite Reports
Attendance tracking is now improved which could help you increase retention and keep your wrestlers in practice
Retention is the number one driver of any successful program. Both for for-profit or non-profit clubs, attendance reporting is critical to the tracking of your students progress. This report makes it easy to see your students who are at risk of cancelling or falling through the cracks and have a personal conversation or connect before they cancel.
Invite status reporting makes it easier to get your wrestlers and parents on the App
You have always been able to use the invite feature to invite wrestlers or parents to create an account via email. Now you are able to easily see who has accepted their invite and created their account. You also have the ability to resend invites directly in the reporting feature, making it even easier to make sure your team is all on and using WrestlingIQ.
---
Let us know what you need to grow:
We are looking at ways we can better support the growth of wrestling via webinars, trainings, office hours and courses and want to know what you need
We want to help you grow your academy, club, or school based program and are in the process of building out additional educational support on best practices for WIQ users. So we can create content that actually helps you, please take this 90 second survey let us know what you need.
---
Need a hand?
I know that one of the difficulties with switching software systems is how daunting it can seem to get everything set up. It won't be effortless, but with an investment of 30 to 60 minutes, you can have your team setup and ready to go for your upcoming season saving you hours per week down the line.
Want me to double check your configuration or walk through set up with you? I am happy to do so and you can snag a time slot here.